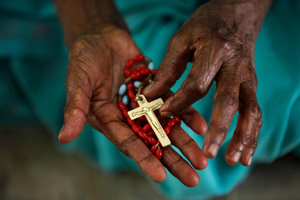 Christian community leaders in Lahore say the violence unleashed on the Pakistani city's Joseph colony erupted after a drinking session involving two friends, one Muslim and the other Christian.
They argued and the Muslim man is said to have told his friend he "would teach him a lesson". That "lesson" was to make an accusation under section 295-C of the penal code, the blasphemy laws which carry with them a potential death penalty.
Although there are no recent instances of such a sentence being carried out, the accusation alone of blasphemy has led to violence that has over the years claimed the lives of countless people. And cases are usually about something else, land or money or personal animosity, but where 295-C has been used a means of assault.
The most high-profile individual to lose his life as a result of the laws, introduced under British rule but strengthened under military dictator General Zia ul-Haq, was Salmaan Taseer, the Governor of Punjab.
Taseer had supported reforming the laws, and was shot dead in January 2011 by an outraged member of his protection detail. Two months later, the Minorities Minister, Shahbaz Bhatti, was assassinated.
Pakistan has become an increasingly deadly place for minorities, be they Christians, Hindus, or Shia or Ahmadi Muslims.
"This attack shows the heightened state of vulnerability of all minorities," said Ali Dayan Hasan, of Human Rights Watch. "It also shows ... provincial or central authorities are ... unable or unwilling to protect minorities."
The Government had been considering reform and Sherry Rehman, Pakistan's ambassador to Washington, had drafted a reform law. After Taseer's death, that plan was scrapped.
-Independent