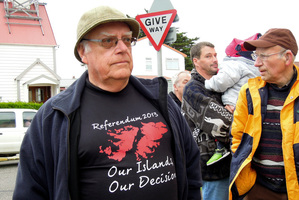 Residents of the Falkland Islands yesterday queued up to vote in a referendum intended to show the world they want to stay British amid increasingly bellicose claims by Argentina.
Buenos Aires has dismissed the vote as meaningless, but witnesses reported up to 90 people waiting in the rain to vote at the single polling station in the capital, Stanley, an hour after it opened.
"It's an extraordinary turnout," Barry Elsby, a member of the Falklands Legislative Assembly, said by telephone as he queued up outside the town hall behind two islanders dressed head-to-toe in the British flag.
In a move instigated by residents themselves, 1672 eligible voters are being asked whether they want the Falklands to remain an internally self-governing British overseas territory.
The result is not in doubt but the scale of the "yes" vote will be closely watched as a sign of the Falklanders' strength of feeling.
"No matter what Argentina says, the rest of the world will not ignore it," said Elsby, a 57-year-old Welsh doctor who moved to the Falklands on a two-year contract in 1990 and never left. "I'm very proud of what we're doing today."
Britain has held the barren islands since 1833 but Buenos Aires claims what it calls Las Malvinas are occupied Argentinian territory.
Diplomatic tensions have risen in recent years, fuelled by the discovery of oil near the Falklands, with Argentine President Cristina Kirchner ramping up her demands for the islands' return.
The ambassador to Britain, Alicia Castro, last weekend branded the referendum "utterly meaningless" from the perspective of international law.
However predictable the result, the "yes" campaign has been carried out with enthusiasm.
Homes and shops are festooned with both the British Union Jack and the deep blue Falklands standard, which includes the Union Jack and a crest with a sheep in the middle.
-AFP