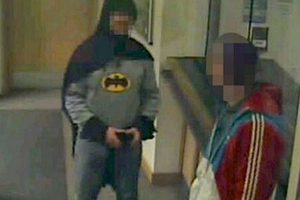 The caped crusader has been revealed.
A vigilante dressed as Batman, who handed a wanted man into a British police station yesterday, has been unmasked as a Chinese takeaway delivery driver, the Daily Mail reported.
Stan Worby, 39, claims he was the caped crusader who stunned officers and passers-by when he swept into the station in a full Batman costume, before vanishing.
He walked into a British police station in West Yorkshire, northern England in the middle of the night and told officers "I've caught this one for you" as he handed them a crime suspect.
Wearing the full costume of the shadowy comic book hero, including a cape, he then "promptly vanished into the night to fight crime and the fear of crime in Bradford", West Yorkshire Police said.
Police said the 27-year-old crime suspect had been wanted in connection with a string of crimes and has now been charged with handling stolen goods and fraud-related offences. He will appear in court on Friday.
"The person who brought the wanted man into the station was dressed in a full Batman outfit," a police spokesman said.
Worby told the Daily Mail the wanted man was a friend of his.
Neighbourhood police in the Buttershaw area of Bradford revealed details of the mystery on their Facebook page and the incident was captured on CCTV.
The post sparked a slew of theories on social networking sites about the identity of the crime fighter, including suggestions he may know the arrested man since there was little sign of a struggle.
- AFP with Newstalk ZB