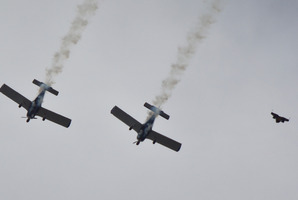 American aviation authorities have opened an investigation into a pilot's sighting of a small unmanned aircraft in the air near New York's John F Kennedy International Airport.
The Federal Aviation Administration said an Alitalia pilot reported seeing "a small, unmanned or remote-controlled aircraft while on final approach" to land at the airport.
The sighting was approximately six to eight kilometres southeast of the airport "at an altitude of approximately 1500 feet," the FAA said.
It added that the pilot did not take evasive action and the Alitalia jet landed safely.
"We saw a drone, a drone aircraft," the pilot can be heard in a radio communication to the control tower, picked up and disseminated by the website LiveATC.net.
- AFP