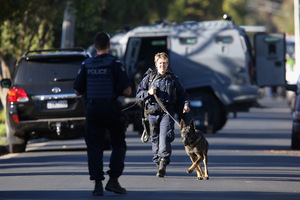 The body of convicted rapist Antonio Loguancio has been found in a bungalow after a two-day siege in Melbourne came to a fiery end.
Police say the siege escalated yesterday afternoon when a number of shots were fired from the bungalow at the rear of a property in Glenroy. The house caught fire around 4pm and firefighters found Loguancio's body when they extinguished the blaze.
Loguancio had been holed up in the Justin Avenue property since Friday night. Deputy police commissioner Tim Cartwright said police had attempted to talk Loguancio out of the bungalow throughout the siege.
Loguancio had breached a supervision order and allegedly assaulted his partner before going into hiding. He had been released on a supervision order after being jailed for 12 years for multiple counts of rape, assault and other offences.
- AAP