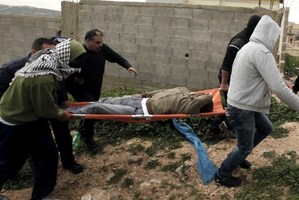 A Palestinian prisoner died in an Israeli jail, officials said, as the number of inmates on hunger strike climbed to 11, according to the Palestinian Prisoners' Club.
Arafat Jaradat was "arrested a few days ago. He was killed during the investigation,'' the Palestinian minister in charge of prisoner affairs Issa Qaraqaa told AFP.
"We demand the creation of an international commission of inquiry to probe the circumstances of his death,'' Qaraqaa said.
Israel Prisons Service spokeswoman Sivan Weizman said Jaradat, a 30-year-old from the West Bank city of Hebron, died suddenly at Meggido detention centre in northern Israel.
"It was probably a cardiac arrest. I don't have additional details at the moment,'' Weizman said.
Israel's Shin Bet internal intelligence service said Jaradat had been taken ill just before his death.
"Medics were called to treat him but they were unable to save his life,'' Shin Bet said in a statement, adding that Israeli police had opened an investigation into Jaradat's death.
The Islamist Hamas rulers of the Gaza Strip said Jaradat had died because of "the inhuman conditions in Israeli jails.''
The death could exacerbate tensions in Israel and the Palestinian territories which have been rocked this month by protests of solidarity with four other prisoners detained by Israel who are on hunger strike.
The Ramallah-based Prisoners' Club announced on Saturday that another seven prisoners have joined the protest action, although there was no immediate confirmation from the prisons service.
"The Prisoners' Club does not know exactly when they started their hunger strike. The lawyers who are going to visit them will get more details,'' spokesman Amani Sarahna told AFP.
He said Muna Qaadan, a sister of Tareq Qaadan who has gone without food on and off for several months, was among those who joined the action. She had been freed in October 2011 under a prisoner exchange but since re-arrested.
An Israeli official said three hunger strikers - Qaadan, Jafar Ezzedine and Ayman Sharawrna - were taken to hospitals for protective check-ups on Friday.
Jaradat's death in detention comes a day after nearly 100 Palestinians were wounded in clashes with Israeli security forces during demonstrations in the West Bank to demand the release of the hunger strikers.
The fate of Palestinian prisoners, and in particular the hunger strikers, has sparked protests across the Palestinian territories and raised international concern.
On Saturday, a solidarity rally was organised in the Arab Israeli town of Nazareth in northern Israel.
- AFP