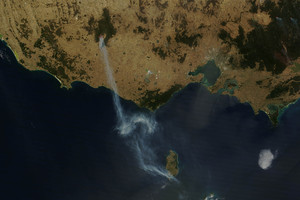 People living on Melbourne's fringes need a reality check about fire danger, authorities say. A 2400ha fire caused traffic gridlock and prompted evacuations across the city's northern suburbs on Monday afternoon. Fire Services Commissioner Craig Lapsley said many residents did not have a fire plan.
The fire was thought to have destroyed a home in Epping North but CFA crews assessing damage in the area yesterday found that only three sheds had burned. Cooler conditions and light rain yesterday reduced the threat posed by the grassfire.
Crews are also battling a fire in the Grampians which is expected to burn for some time. The slow-moving bushfire in western Victoria has burned more than 8800ha. More than 200 firefighters and 14 aircraft are fighting the blaze.
- AAP