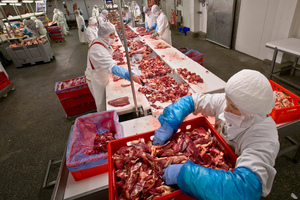 Europe's unfolding horsemeat scandal took a new twist when it emerged that key intermediaries involved in the trade appeared to be using a similar secretive network of companies to the convicted arms trafficker Viktor Bout.
The Organised Crime and Corruption Reporting Project (OCCRP) identified an intermediary firm, Draap Trading, based in Limassol, Cyprus, as playing a pivotal role in shipping horsemeat across Europe.
Draap has confirmed that it bought horsemeat from two Romanian abattoirs. The company sold the meat to French food processors including Spanghero, which supplied another French company, Comigel, that turned it into frozen meals for the likes of British food firm Findus, some of which had a meat content that was almost 100 per cent horse.
Draap, which is owned by a trust in the British Virgin Islands tax haven, insists the meat it sold into France was labelled as horse. Spanghero says the meat arrived labelled "beef".
Jan Fasen, who runs Draap and has denied any wrongdoing, was convicted last year of selling South American horsemeat as German and Dutch beef.
In a development that sheds light on the mysterious networks operating in the European food chain, it has emerged that Draap's sole director is an anonymous corporate services company called Guardstand, set up in 1996 and based in Limassol. A 2011 joint report by the International Peace Information Service and TransArms, an organisation which researches arms shipments, produced evidence Guardstand also owned a share in a business called Ilex Ventures, a connection that links the company to the global arms trade and Viktor Bout.
Documents filed in a New York court by US prosecutors allege that in 2007 Bout and an associate transferred almost US$750,000 to Ilex for the purchase of aircraft to fly arms and ammunition around Africa's trouble spots in breach of embargos.
The prosecutors said Ilex was owned and controlled by Bout, an international weapons dealer known as the "merchant of death", who last April was sentenced to 25 years in jail for arms smuggling.
But who owns Guardstand and why Draap employs it as a director is a mystery that is likely to be studied closely by fraud investigators. Guardstand's sole shareholder is Trident Trust, a business based in Cyprus that specialises in establishing companies in tax havens chiefly for Russian and Ukrainian clients and which helped set up Ilex.
Petros Livanios, who runs Trident and was once a director of Ilex, declined requests for an interview.
While there is no suggestion anyone at Trident was aware Guardstand may have been exploited by criminal networks, the opaque nature of its ownership will be a concern for investigators trying to unpick the web of interests that facilitate Europe's meat trade.
Cyprus has been a favourite place through which former Soviet bloc oligarchs and military chiefs have laundered cash plundered from the privatisation programme of state assets that followed the end of the Cold War.
The scandal, which started when authorities in the UK and Ireland found equine DNA in supermarket burgers, has raised concerns that criminal networks may be playing a role in the food chain. Several slaughtermen in the UK have been arrested in connection with the scandal.
-Observer