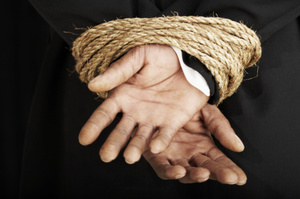 The extraordinary story of the missing property tycoon who was found wandering barefoot down a remote road with "thief" carved into his forehead made headlines around the world.
But now Kevin McGeever's account of his eight-month ordeal is coming under scrutiny as revelations about the Irish businessman's colourful past raise questions about the circumstances of his kidnapping.
McGeever, 68, had previously been in trouble with Interpol, the FBI and police in Germany and Abu Dhabi, it emerged yesterday.
He was once sought for questioning in the United States, where the FBI wanted to interview him in connection with a suspected $4 million fraud. Abu Dhabi authorities had attempted to extradite him from Germany in connection with another suspected fraud involving more than half a million euros.
In Ireland, meanwhile, there are complaints from individuals about property deals in Abu Dhabi, with allegations McGeever did not deliver on the sales of apartments.
The revelations throw new light on his dramatic account of spending eight months in the hands of kidnappers. He said they threatened his life, warning him he would be killed unless a ransom was paid.
Two weeks ago he was found wandering on a lonely country road, bedraggled, with a lengthy beard and long fingernails. He had experienced acute weight loss, and a woman who encountered him described him as "just skin and bones".
McGeever has since been in hospital receiving treatment for malnutrition and dehydration, and has yet to provide Irish police with a full statement of what happened.
His brother Brendan said in an interview that his captors never spoke and kept their faces covered: "They handed him notes to look at, saying, 'You have two more days to live'. They put a gun to his forehead one time and he said, 'Do it now, do it now, I have made my peace with my God'."
Brendan said his brother had described media speculation about Russian mafia involvement in his kidnapping as "nonsense".
- Independent