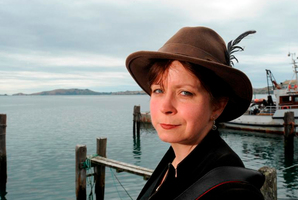 English environmentalist Zoe Young has repeated the journey her grandmother made in 1913 to mourn the death of her husband, Captain Robert Falcon Scott, on the ill-fated Terra Nova expedition to the South Pole.
"It's a journey in honour of my grandmother. It's also an ancestral journey," Ms Young said yesterday.
"Our ancestors have become the stuff of myth and legend."
Ms Young is the granddaughter of Kathleen Scott, who was Scott's wife when he perished with companions Lawrence Oates, Edgar Evans, Edward Wilson and Henry Robertson Bowers after being beaten to the pole by Norwegian explorer Roald Amundsen.
She was on board a ship, on her way to meet her husband in New Zealand, when she learned of his death.
"She was somewhere in the vicinity of Tahiti, when she was told the news.
Then she arrived in New Zealand to face the world's press and attention," Ms Young said.
"She had seen her man off from Port Chalmers in 1910. They spent their last night together at a house on the corner of Jubilee [St] and Hawthorn [Ave] in Mornington. Then she was taken out to the Terra Nova to say goodbye."
Scott and his companions died from exhaustion, starvation and extreme cold on the Ross Ice Shelf in 1912.
His final diary entry on March 29 read: "Last entry. For God's sake look after our people."
However, the world was not informed of the tragedy until Terra Nova returned to Oamaru on February 10, 1913.
In 1922, Lady Scott married Hilton Young, later Lord Kennet, who are Ms Young's grandparents.
"We grew up in Peter Pan House, overlooking Kensington Gardens. Scott was friends with J.M. Barrie, and my grandparents later bought the house."
Her uncle, the ornithologist, conservationist and painter Sir Peter Scott (1909-89), was named after Peter Pan.
"He was called the patron saint of conservation by Sir David Attenborough."
Ms Young is an author, film-maker and artist, who campaigns for environmental issues.
"Heritage comes down through the generations and our family was firmly raised to protect the legacy. Growing up, it was very clear that you needed to do the right thing. Science, simplicity and nature were primary," she said.
"All my life, I've been working for the protection of the environment. To me, it's obvious - we need to protect this earth for future generations."
Ms Young also visited Oamaru this week to read excerpts from her sister Louisa Young's biography of their grandmother, A Great Task of Happiness - The Life of Kathleen Scott.
She also plans to visit the marble sculpture of Scott in Christchurch, which her grandmother, a renowned sculptor who studied under Auguste Rodin [The Thinker], created after the explorer's death.
"The statue fell during the [2011] earthquake. It was broken at the feet during the earthquake, just like Scott at the South Pole," she mused.