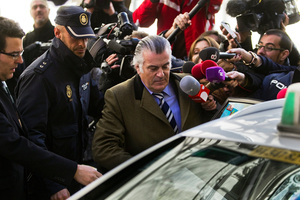 Protesters booed the former treasurer of Spain's Partido Popular party as he left the prosecutor's office after being questioned over allegations of corruption that have rocked the country's government.
Luis Barcenas, a former banker, is accused of involvement in the channelling of payments through secret accounts from managers of construction companies to PP party leaders, including the Prime Minister, Mariano Rajoy, who has faced calls from the opposition to resign over the allegations. After being grilled by Spain's anti-corruption prosecutor, protesters booed and yelled "thief" as Barcenas left the Madrid court. He has denied all the allegations.
Prominent PP members - including Rajoy - have denied any wrongdoing and libel cases have been started against El Pais, the newspaper which published nearly two decades worth of what it called "the PP treasurer's secret accounts" last week.
The anti-corruption prosecutor also heard preliminary statements from other leading figures in the case, including Jorge Trias, a former PP legislator who has claimed irregular payments of what he called "envelopes with money" had been made to members of the party hierarchy.
Alvaro Lapuerta, who had preceded Barcenas as the PP's treasurer and who also denies any involvement, is due to be questioned today.
Barcenas also faces allegations in another financial scandal in which he is charged with bribery, money laundering and tax evasion.
- Independent