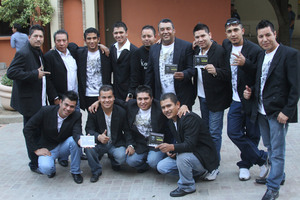 Mexican authorities have pulled a thirteenth corpse from a well, saying it belonged to a member of a missing Colombian-style music band.
Officials have said the 14 musicians and four crew members of Kombo Kolombia were snatched by gunmen who stormed a party in the town of Hidalgo early Friday.
On Monday, their fate grew grimmer after authorities pulled four of their bodies from the same well while trying to identify eight more.
"We have recovered 13 bodies from the well" in the town of Mina, a source from the Nuevo Leon State Investigation Agency told AFP.
Kombo Kolombia played a show in a building that people rent for parties and there were 50 people there when the gunmen barged in, forcing the band to climb into vehicles.
One of the victims has been identified as Heiner Cuellar, a Colombian keyboardist.
Authorities have not given a motive for the kidnapping and murders but a source close to the probe said the massacre could be linked to a rivalry between drug cartels.
The Zeta drug gang, one of Mexico's most violent criminal groups, controls some of the sites where Kombo Kolombia played, according to the source, who said the killers could be members of the rival Sinaloa cartel.
The recovered bodies showed signs of torture and had bullets wounds. Their pants were pulled down to the knees to presumably keep the victims, while they were still alive, from escaping.
One of the members did manage to get away and led authorities to the well.
Nuevo Leon is one of the states hardest hit by the wave of murders, kidnappings and extortion in Mexico's drug war, which has left more than 70,000 people dead since 2006.
- AFP