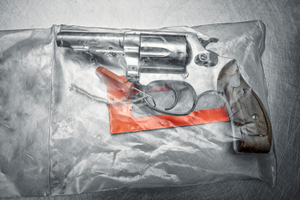 Thai police will seek harsh sentences for two Australians reportedly linked to an outlaw motorcycle gang who they say shot two German tourists during an attempted hit on a local underworld figure.
Adam Lewis Shea, 26, of Tasmania, and John Edward Cohen, 33, of New South Wales, have been charged with attempted murder and illegally possessing a firearm.
The two men, owners of a local tattoo parlour, were arrested after allegedly firing at a Dane who failed to pay for the hire of an expensive motorcycle, shooting down a crowded street on the resort island of Phuket.
They instead hit tourists Johann Baschenegger, 41, and Joseph Woerner, 71, who were standing outside their hotel when the shots were fired, police say.
Baschenegger was admitted to hospital in a serious condition. Woerner was reported by local media to be in a satisfactory condition.
Superintendent Chiraphat Pochanaphan of the Patong police told the Phuket Gazette the Australians must face the full extent of the law if convicted. "The suspects opened fire in the middle of a dense tourism area and injured two innocent people. They have seriously tarnished Thailand's reputation."
Shea and Cohen were reported in the Phuket media as being linked to either the Rebels outlaw motorcycle gang or the Bandidos, which local media said was trying to establish itself in Phuket.
Police said the pair had been due to appear in court on Tuesday with a member of the Phuket mafia identified as "Dannie", over a dispute involving a 300,000 baht ($12,000) motorcycle.
After Dannie failed to appear, Shea and Cohen allegedly went hunting for him.
Police say the pair saw Dannie near the Baan Pirin Hotel, and Cohen opened fire with a .38 pistol.
He missed, allegedly hitting the tourists instead, and handed the pistol to Shea before they split up to escape. They were arrested within hours at their tattoo parlour.
Cohen claimed that Dannie had sent men to his home.
"I was afraid he would shoot me since he did not show up at court," Cohen reportedly told police. "So me and my friend decided to make a move first."