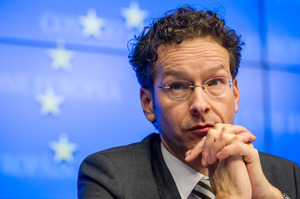 Jeroen Dijsselbloem of the Netherlands has taken over as chairman of the key Eurogroup of finance ministers, despite resistance in a vote to replace Luxembourg's Jean-Claude Juncker.
"We appointed the Dutch Finance Minister Jeroen Dijsselbloem to become the new president of the Eurogroup," Juncker told a press conference yesterday after barely five hours of talks.
Dijsselbloem was given a 30-month term and would retain his [Dutch] post, the Eurogroup said.
Dijsselbloem said it was "a distinct honour to be given the possibility to succeed Jean-Claude".
- AAP