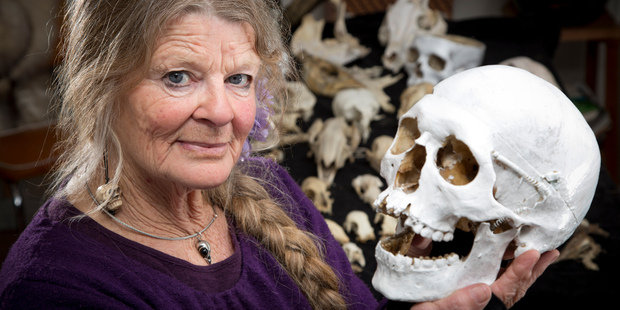 A New Zealand woman who is convinced she owns the skull of notorious Australian bushranger Ned Kelly has held a wake for the infamous criminal to mark his burial yesterday.
Kelly was buried without his head in a private service in rural Victoria on Sunday. The identity was confirmed more than 130 years after his execution by DNA testing of his bones to compare them to one of his descendants.
His family is still in search of Kelly's skull, which Napier woman Anna Hoffmann maintains she was given 30 years ago while on holiday in Melbourne.
Ms Hoffmann said she not heard from Australian authorities since claiming last year she had Kelly's head.
She has maintained she is willing to return it to the family if they wish for its DNA to be tested.
Ms Hoffmann said she was "a teenage rebel too, so I can identify completely with Ned".
"There's a Ned Kelly support group here where I live, one [member] even has his image tattooed on her arm.
"We had a wake, not to celebrate him but to send him off properly, and the skull was there."
Ms Hoffmann said those at the wake had a meal to match the last supper Kelly requested before his execution in 1880 after a shootout with police.
"He had lamb chops and peas and a glass of claret, that's how sophisticated he was," Ms Hoffmann said.
The remains confirmed as being Kelly's were buried under concrete to stop potential thieves from preying on his grave at Greta Cemetery, near Wangaratta in north-east Victoria.
Kelly relative Joanne Griffiths told the ABC the funeral service brought "closure" for the family.
"We've brought him home, back to his family and back to the area that he loved. We've given him his final wish, so that makes us quite happy," she said.
- APNZ