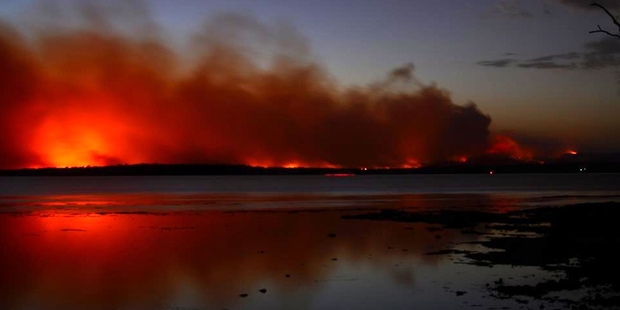 Firefighters say the NSW bushfire crisis has eased as a result of cooler weather and milder winds but warn that more than 140 blazes continue to burn across the state.
This morning the NSW Rural Fire Service (RFS) said there were 142 bushfires burning across the state, 29 of them uncontained.
An RFS spokeswoman said many of the blazes had been sparked overnight by a band of lightning, with more strikes expected through the day on Saturday.
She said the worst fire was around Millingandi in the Bega Valley, which had so far burnt 180 hectares of bush.
The fire was burning very close to homes in the area, the spokeswoman said, noting that a watch and act alert had been issued for the blaze.
She said four other watch and act alerts had been issued for fires in NSW, near Boorowa in the state's west, Aberdare in the Hunter Valley, in the Warrumbungle National Park to the west of Coonabarabran, and Deans Gap in the Shoalhaven.
The bushfire threat across the state was "a major windback from the conditions we saw yesterday".
"It's much more mild temperatures and we've got relatively mild winds, nothing too much above 30 kilometres per hour," the spokeswoman said.
"It's certainly looking more promising than yesterday. Absolutely."
Temperatures soared into the 40s across much of NSW on Friday but have since dropped significantly due to a cool change. At 7.47am (AEDT) it was 22 degrees in Sydney.
There are no total fire bans in place for NSW on Saturday.
- AAP