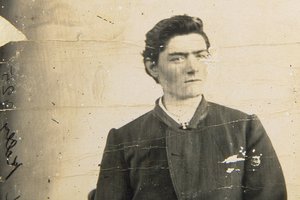 As Ned Kelly's descendants carried his coffin from the memorial service he never had 132 years ago, the bushranger's favourite song rang out through the church: "In the sweet by and by, we shall meet on that beautiful shore."
The lyrics, which Ned Kelly reportedly sang in his cell the night before he was hanged, were an apt soundtrack to the realisation of his dying wish - a burial in consecrated ground alongside his loved ones.
More than 200 Kelly descendants, and dozens of public onlookers and regular churchgoers, attended the noon service dedicated to the bushranger at St Patrick's Church in the Victorian town of Wangaratta. The family will bury Kelly's bones in an unmarked grave in the region's small Greta cemetery on Sunday.
Proving that the Kelly enigma continues to divide, parish priest Monsignor John White told mourners he had received offensive phone calls and emails when it was revealed he would deliver the outlaw's liturgy.
But as he told the crowd, this service wasn't about Ned Kelly, the triple cop-killing, bank-robbing bandit. It was about Edward Kelly, a baptised Catholic, who was entitled to the dignified burial he was denied following his hanging in 1880, when his decapitated body was entombed in the dirt with no family members present. "Today, we're righting that wrong," White said.
- AAP