Residents told it's too late to evacuate amid fears for 15 rural properties.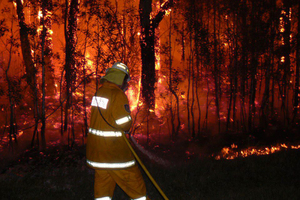 An emergency warning was issued late yesterday for around 100 people near Cooma in New South Wales after a bushfire jumped containment lines and threatened homes.
About 15 properties were under threat in the areas of Countegany and Kybeyan, the Rural Fire Service said.
"People should shelter in place as the fire impacts property," a spokesman said, adding it was too late for people to leave.
Nearly 100 firefighters, supported by aircraft, were trying to combat the blaze, which has burned through more than 9800ha of bush and grass land.
Across NSW a total of 350,000ha has burned as more than 1000 firefighters work from 300 trucks.
Six people were treated for heat exposure yesterday across the state as temperatures pushed above 45C in some areas.
NSW Ambulance said five women aged between 38 and 93 and a 12-year-old girl were treated by paramedics, with four of them taken to hospital.
Firefighters are hoping a cool change will bring reprieve across NSW as they try to contain 94 fires, 12 of them uncontained.
Of most concern are "very sizeable fires" at Yass, Deans Gap and Cooma, RFS Deputy Commissioner Rob Rogers said.
As well as the blaze in Cooma, almost 8500ha have been burned through at Deans Gap in Shoalhaven. Firefighters were also still working on a blaze near Yass, which has a 100km perimeter and has razed almost 14,000ha of scrub and grass.
"The big danger is those fires making a run and a number of fires starting," Rogers said.
He said the fires had been heartbreaking for some farmers across NSW, particularly in Yass, with reports of 10,000 stock losses.
"It's pretty tragic, the farmers have lost machinery and fencing," he said. "It's either flooding or it's drought or it's fire."
Hot, dry and windy conditions forecast for this Thursday may push Victoria into extreme fire danger, authorities said.
Several fires are burning across the state but they are under control, including a blaze at Kentbruck in the state's southwest, where 66 fire crews are working.
A State Control Centre spokeswoman said the Kentbruck blaze has actually increased in size to 11,890ha, due to backburning as part of containment efforts.
In Tasmania, firefighters issued a watch and act alert as a bushfire between Forcett and the Tasman Peninsula grew stronger. Authorities were trying to contain the fire before the next forecast high fire danger day on Thursday.
The Tasmanian Fire Service issued the message yesterday for communities near the blaze, noting an increase in activity on the blaze boundary in the Kellevie, Bream Creek and Marion Bay areas.
New Zealand's brigade of volunteers are tackling fast-moving infernos in the island state. The two six-member crews from Northland and Nelson are working in the fire line alongside Tasmanian forestry service personnel in the centre and northwest.
-AAP