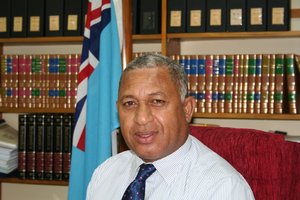 Fiji's military coup leader Voreqe Bainimarama said the country's new constitution would be ready within three months, paving the way for a return to an elected government next year.
In his New Year's Day address to the Pacific island nation, Bainimarama also said the country would get a new flag to "reinforce a new Fijian identity".
Bainimarama tore up the previous constitution in 2009, three years after seizing power, and said a new charter protecting a corruption-free state was essential before democracy could be restored.
"The new, modern and enduring constitution will be ready by the end of the first quarter of 2013," he said, adding this would "set the scene" for the 2014 elections.
"A constitution that must ensure common and equal citizenry and a constitution that must ensure that any representatives of the people in the new parliament must be elected under the principle of one person, one vote and one value," he said.
Bainimarama drew widespread international criticism and Fiji was suspended from the Pacific Islands Forum when he scrapped the previous constitution and replaced all judges with hand-picked officials.
He rejected all pressure for an early return to democracy, saying the new constitution must be in place first.
A draft of what will be Fiji's fourth charter is currently with President Epeli Nailatikau before being reviewed by a special assembly.
The former British colony recently removed the image of Britain's Queen Elizabeth II from its currency and Bainimarama said it would soon get a new flag.
"All of this is to reflect a sense of national renewal, to reinforce a new Fijian identity and a new confidence in being Fijian on the global stage," he said.
The current flag features the red, white and blue Union Flag of Britain in the top left-hand corner with the shield from the Fiji coat of arms on the right side.
- AFP