Australia found itself torn between a neighbour and its key ally, and worked to preserve links to both.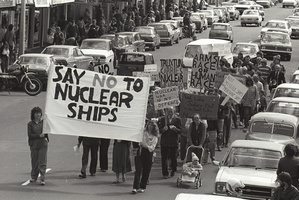 New Zealand's opposition to nuclear ships created political difficulties for Canberra. Photo / APN
Cabinet documents released today reveal the diplomatic, political and military agonies Australia tried to balance because of New Zealand's non-nuclear policy and the splintering of the Anzus pact with the United States.
The 1985 deliberations of Bob Hawke's Labor Government, made public by the National Archives, show Australia was torn between competing interests and fears for its own security and economy.
The Cabinet was also warned that while pressure was mounting in the US Congress for tough retaliatory action against New Zealand, including economic measures, Wellington's stance had strong support among the Australian public.
"To be seen to be abandoning New Zealand as a result of the present situation and of US reactions would not be understood in the community at large," a submission by then Foreign and Defence ministers Bill Hayden and Kim Beazley said. The submission also warned that America's heavy-handed response to the ban on nuclear ships had concerned other US allies.
"Several Nato and Asean countries have said to us that, while disturbed by New Zealand's policies, they regard the Americans as having over-reacted and as running the risk of creating a 'laager' mentality in New Zealand," it said.
The Anzus Treaty, signed in 1951 between New Zealand, Australia and the US, bound its members to consult the other parties in the event of threat or attack, and to maintain individual and collective military capabilities.
The pact splintered when the newly elected Labour Government of David Lange banned nuclear armed or capable ships from New Zealand, infuriating the US, which suspended its treaty obligations after the frigate USS Buchanan was turned away in 1985.
Most military and intelligence co-operation between the two countries was axed until the recent thaw in defence relations, and Anzus became a bilateral US-Australia alliance.
While concerned and angered by the non-nuclear policy, and committed to the US alliance, the Hawke government feared Washington could make matters much worse.
Canberra's own position was clear and unequivocal: Australia was firmly committed to the alliance, including the use of its ports by nuclear-powered and capable American warships.
Canberra did not accept New Zealand's belief that it was not affected by a global superpower threat and that regional security did not require a nuclear capability.
With more than 40 per cent of its combat ships nuclear-powered - and "almost all would assuredly be nuclear-capable" - the US could not be expected to maintain two navies, one for global security and another for regional stability.
Australia was also worried by American fears of New Zealand unleashing a domino effect among other allies which could "[relieve] themselves of their mutual defence treaty obligations" and trigger an unravelling of the global treaty system.
Canberra feared the US Administration could be pushed toward even tougher retaliation by an angry Congress, damaging both Australian and American interests in the process.
"The situation requires careful handing by both the US and Australia," Hayden and Beazley told the Cabinet. "Aggressive or clumsy handling of the matter could ... render even more remote the prospects of New Zealand returning as a full-time partner in the Anzus arrangements."
At home, the Government was trying to contain pressure from interest groups within Parliament which supported a strong US alliance "regardless of the cost of the bilateral relationship with New Zealand" and urged a new, separate defence treaty with Washington.
But there was also strong public support for New Zealand.
Australia was also worried that the end of New Zealand's participation in Anzus, its exclusion from exercises with the US and the ban on US-sourced intelligence would impose new threats, costs and complications for its own security.
The Cabinet was reminded that the (former) Soviet Union was trying to gain a foothold in the Pacific and had turned New Zealand's policies to its propaganda advantage.
Hayden and Beazley said the non-nuclear policy was damaging Australia's security interests and had caused new doubts in Southeast Asia and the Pacific about the strength of the Anzus treaty.
Further, their submission said, the end of New Zealand's participation in Anzus would worsen the nation's already declining military capabilities, reducing its ability to help protect Australia's eastern flank and its trade routes to the US.
The Cabinet decided to steer a careful course through dangerous political waters. It would reaffirm to Washington Australia's total support for the alliance, while trying to minimise damage to its "traditional closeness and affinity" with New Zealand.