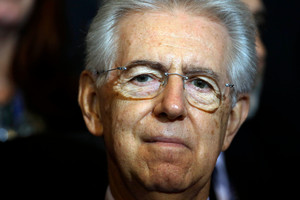 Italian Prime Minister Mario Monti resigned on Friday with his political plans still in doubt, paving the way for early elections next year in a lynchpin eurozone state still mired in recession.
Mr Monti kept a promise to step down after losing support in parliament and "handed in the resignation of his government" to President Giorgio Napolitano, the presidency said in a statement.
He will stay on in a caretaker role until the elections.
Napolitano will now begin consultations on Saturday with parliamentary leaders before dissolving the two chambers and calling a general election which most observers expected on February 24.
Monti is then expected to announce his own plans at a press conference on Sunday.
In his last speech as premier, Monti said that his stormy 13 months in government had been "difficult but fascinating" and voiced hope that his reform agenda will be continued by any new leader.
Italy was now "more reliable" on the world stage and the euro was in a better state "also thanks to Italy," he told foreign ambassadors in Rome.
The 69-year-old has won praise at home and abroad for rescuing Italy from the brink of bankruptcy with tough austerity, launching long-delayed pension and labour market reforms and joining other eurozone leaders in battling the debt crisis.
Monti said he would step down earlier this month after his flamboyant predecessor Silvio Berlusconi withdrew his support for Monti and announced he would run for a fourth term as prime minister.
The government's mandate had been due to run out in April.
"The technocratic government is finishing today and we hope there will no longer be a suspension of democracy," Berlusconi told reporters after the resignation announcement.
Roberto Maroni, leader of the Northern League party which has opposed the Monti government, said on Twitter: "Monti has resigned, about time!"
- AFP