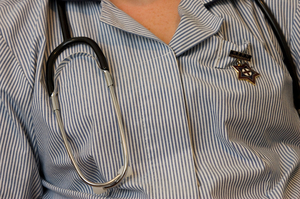 French authorities have launched a nationwide hunt for a young woman disguised as a hospital worker who abducted a two-day-old baby from a maternity ward.
Police said they were studying video footage of the woman in the hospital in the eastern city of Nancy from where the boy named Lucas was taken, but said they had no leads on the abductor's identity.
Authorities launched an appeal on radio, television and on noticeboards in train stations as well as motorways to try to track down the woman, who is described as slim, of European origin, and aged between 16 and 20.
She reportedly walked into the maternity ward and made off with the infant as his 24-year-old mother slept.
Police brought sniffer dogs to the hospital to try to find traces of the stolen child and other officers studied video footage from cameras in streets and public transport in Nancy. Police had received several calls from the public but no major line of inquiry was being pursued so far.

- AFP