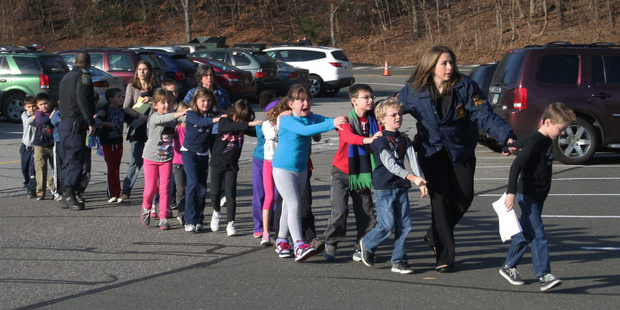 The weapon used in the Newtown school massacre is a civilian version of the powerful M-16 assault rifle issued to US troops since Vietnam, and can be purchased legally across the United States.
Police said gunman Adam Lanza killed most of his victims with the Bushmaster AR-15, manufactured by Bushmaster Firearms International, which fires .223 caliber bullets, equivalent to NATO's standard 5.56 millimetre ammunition.
Lighter than the rifles used in World War II or Korea, the round is designed to penetrate body armor or steel helmets and take out an enemy soldier from up to 600 meters, at a velocity of nearly 1,000 metres per second.
The AR-15 is also the template for the military's current M-4 rifle, a shortened carbine variant of the M-16, which is carried by the American soldiers in Afghanistan and around the world.
The same military-style assault rifle was used in another shooting spree in July in Aurora, Colorado, with the gunman opening fire in a cinema at the premier of the latest "Batman" film.
The gun featured in other rampages in recent years and was employed by the infamous "Beltway snipers," when John Allen Muhammad and his stepson Lee Boyd Malvo murdered 10 people in the Washington DC area in 2001 and 2002.
The M-16 is featured in countless war films, from Apocalypse Now to Rambo, and in the popular, violent video game Call of Duty.
The civilian version of the rifle is virtually identical to the one carried by American soldiers since the 1960s, except that it is not fully automatic.
When firing the "semi-automatic" civilian variant, the trigger has to be pulled for each shot, rather than held down to spray a burst.
In 1994, Congress banned assault rifles and large ammunition clips that carry more than 10 rounds. But the measure expired in 2004 under a Republican-led Congress.
It now is entirely legal for Americans to own a semi-automatic assault rifle, though not the military version.
About 2.3 million assault rifles were produced in the United States in 2011, and another million imported, according to the US federal Bureau of Alcohol, Tobacco, Firearms and Explosives.
Bushmaster's corporate parent, Freedom Group, touts itself as America's largest manufacturer of semi-automatic weapons or so-called "modern sporting rifles."
A Bushmaster AR-15 can be purchased online for less than 1,000 dollars, and is advertised as suitable for "hunting, competition, home defence and tactical use."
The number of firearms owned by Americans has grown from 192 million in 1994 to 294 million in 2007, including 106 million handguns, 105 million rifles and 83 million shotguns, according to the National Institute of Justice.
The number of guns per capita for civilians has roughly doubled since 1968, from one gun for every two Americans to one gun per person.
- AFP