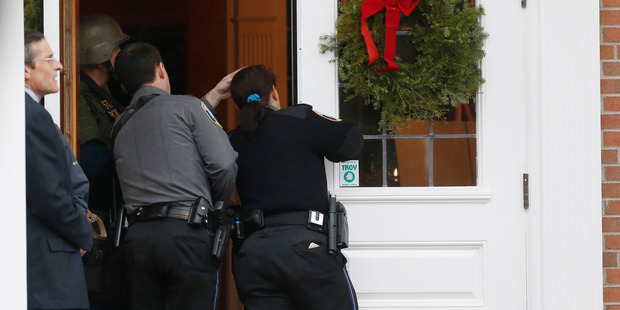 Mourners trying to make sense of the latest US shooting tragedy evacuated a church as an undisclosed threat heightened nerves in the grief-stricken New England town.
The evacuation from the Saint Rose of Lima Catholic church came as the pastor was giving the homily in a somber service two days after 20 small children were slaughtered in an elementary school, as were six adults.
"It was in the middle of the Mass. They just said, 'Please, everybody leave. There is a threat.' That was all," Anne, a woman from the state capital Hartford, said. "The church was packed. There were kids.''
Armed police searched a house next to the brown stone church, and oversaw the evacuation, hours before a visit to Newtown by President Barack Obama.
Nothing suspicious was found at the church but it was shut down after the scare and evening Mass was canceled.
"There was a phone call that concerned the police. It was credible enough that they thought it had to be investigated," said Brian Wallace, a spokesman for the church, who gave no details about the apparent threat.
The building has been locked for the rest of the day to restore a sense of calm, Wallace added.
The scare was probably the last thing the people of Newtown needed on a cold, gray, rainy weather sadly appropriate for a town in so much pain.
As a bewildered country tried to cope with yet another massacre by a crazed and heavily armed gunman, and wondered what lawmakers will do in response, flowers and teddy bears were left at a makeshift memorial at the entrance of Sandy Hook Elementary School.
At any given time, more than 100 mourners stand outside the school in the cold and drizzle. People come and bow their heads in silence.
A row of small Christmas trees decorated with toys lined a street leading to the place where a parent's worst nightmare came true, 20 times over and with unimaginable, multiple-shot cruelty, in Friday's bloodbath.
At the foot of the large Christmas tree in the central square of Newtown were candles, handwritten notes and more flowers.
But it was the churches that were the strongest magnets two days after the killings, both for heartbroken families and police and emergency rescue workers who had to view the bullet-ridden bodies of very small children. Some were shot as many as 11 times with a high-powered assault rifle.
"The community is gathering together and praying," Rosty Slabicky, a Red Cross volunteer said. "They are destroyed. Not just the families, but the first responders are dealing with the crisis in a very personal and emotional way."
At Saint Rose of Lima, Michelle Garraty, a 40-year-old mother-of-three, said that she had struggled to keep her mind on the religious service.
"It was very hard to concentrate in the church. All I wanted was to hold my children, honestly," she said after an early Mass, not the one that was interrupted by the phoned-in threat.
Her desire, she said, was "just to be around people and support the community".
The shooter, who killed himself as police arrived, has been identified as Adam Lanza, 20. His father Peter released a statement saying his family was grieving along with everyone else affected by the tragedy.
"No words can truly express how heartbroken we are. We are in a state of disbelief and trying to find whatever answers we can. We, too, are asking why," it read.
The Saint Rose of Lima church kept the news media out of Sunday's Mass.
"The situation is extremely tense, so we don't want journalists or cameras here," said Brian Wallace, a spokesman.
Connecticut Governor Dan Malloy described how as the magnitude of the tragedy at the school sank in, there was a job to do that nobody wanted to touch.
"It was clear to me that, that there was a reluctance to, to speak to the families. But it was also clear to me that we knew everything we needed to know at that point, and so it fell upon my shoulders to inform the family of what had transpired and that their loved one wouldn't be joining them again," Malloy told ABC News.
Read more:
Heroic teachers sacrificed their lives
Portraits of the gunman's victims
Rifts in US love affair with guns
- AFP