Wednesday's success with rocket sparks fears that a nuclear test may be to follow.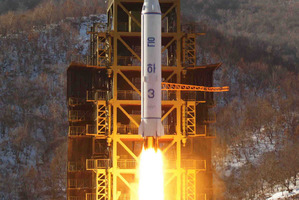 North Korea's leader has ordered more satellite launches, according to state media, two days after a long-range rocket launch triggered global outrage and United Nations condemnation.
Kim Jong Un, who oversaw Wednesday's launch, stressed the need "to launch satellites in the future ... to develop the country's science, technology and economy", the official Korean Central News Agency reported yesterday.
North Korea says it placed a satellite in orbit for peaceful research, but critics say the launch amounted to a banned ballistic missile test that marked a major advance for the communist state's nuclear weapons programme.
The UN Security Council held emergency talks after the North, already under international sanctions for nuclear tests in 2006 and 2009, ignored pleas from friends and foes and went ahead with the launch.
The council warned of possible measures over what the United States called a "highly provocative" act as the US and countries including South Korea and Japan pressed for stronger sanctions against Pyongyang.
Kim issued the final written order for the rocket launch on Wednesday morning and "keenly observed" the whole process, said the news agency, unveiling new details of the leader's whereabouts on the day.
By placing a satellite in orbit, North Korea "showed at home and abroad the unshakeable stand ... to exercise the country's legitimate right to use space for peaceful purposes", Kim was reported as saying.
Analysts say the symbolism of the launch was a prime motivating factor for North Korea as the youthful Kim, who is not yet 30, shores up his leadership a year from the death of his father, Kim Jong Il, on December 17 last year.
"The launch means the fulfillment of Kim Jong Il's last wish," said Yoo Ho-Yeol, a political science professor at Korea University in Seoul.
"As such, it helps cement Jong Un's grip on power and strengthens his authority over the North's military elites, securing their loyalty and a sense of solidarity under his leadership."
The rocket launch has been seen as a timely boost for Kim, laying to rest the humiliation of a much-hyped but failed launch of North Korea's Unha-3 rocket in April, when the carrier exploded shortly after takeoff.
Outrage over the recent launch was mixed with concern that North Korea may repeat its past practice in following up a missile or rocket launch with a nuclear test.
The North's first nuclear test in 2006 came three months after it tested a long-range missile. On that occasion, Pyongyang announced the test six days beforehand.
The second test, in May 2009, came a month after a rocket launch that North Korea claimed had put a satellite in space.
Pyongyang had threatened the second test unless the UN Security Council apologised for its condemnation of the launch
- AFP