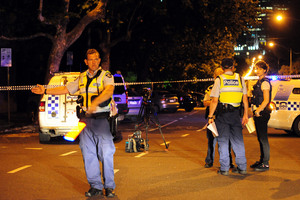 A man who attacked an armed guard at Victoria's Parliament and killed himself with the officer's gun had been questioned after acting oddly at the Melbourne building six hours earlier.
Police say a woman reported the man to a protective services officer after she saw him acting "in a peculiar manner".
The man returned to Parliament on Tuesday night and asked another officer for directions. He bashed the guard in the head with a hammer, stole his handgun and ran to a park near the Melbourne Cricket Ground where he shot himself.
The 30-year-old Chadstone man was known to police but he has not been named.
Premier Ted Baillieu said he was satisfied with security arrangements at the building. "I don't think any members of Parliament felt threatened," he said.
- AAP