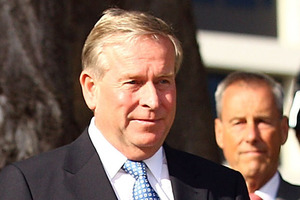 West Australian Premier Colin Barnett has again been forced to defend senior minister Troy Buswell, after more lurid headlines regarding alleged drunken behaviour by the state's Treasurer.
Perth's Sunday Times detailed claims that Buswell "dry-humped" a prominent Perth businessman during a private function last year.
The incident was confirmed by his former partner, Independent MP Adele Carles.
Buswell was forced to resign as Treasurer in 2010, having previously stood down as WA Liberal leader in 2008 after an infamous "chair-sniffing" scandal.
Barnett said he was "disappointed" by the latest story and admitted Buswell "lived life on the edge" but said he would not consider sacking him.
- AAP