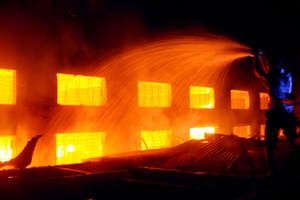 Bangladesh police say they have launched a manhunt for a fugitive factory boss after 110 garment workers burned to death following claims by survivors that they were ordered not to flee the inferno.
Ahead of the first mass burials on Tuesday, Dhaka police chief Habibur Rahman said Delwar Hossain would be interrogated about alleged violations of building rules after inspectors found the nine-storey factory only had permission for three floors.
"We shall also quiz him (Hossain) about allegations from survivors that his managers did not allow the workers to leave the factory when the fire broke out," Rahman told AFP.
"As the smoke spread, the managers even told the workers that it was a fire drill, nothing to be afraid of."
Police have opened a murder investigation as a result of criminal negligence at Hossain's Tazreen Fashion plant, Rahman added.
"We have launched a search for him and the managers, but so far we have not been able to trace them."
The search was launched after protests on Monday by thousands of garment workers who blocked roads and held marches in Ashulia industrial area, where the plant is based, demanding justice and an end to death-trap working conditions.
Two government inquiries and the police investigation are trying to establish the exact cause of the fire, which broke out late on Saturday.
Bangladesh was observing a day of mourning on Tuesday with the green and red national flag flown at half mast alongside black flags on top of government offices and the country's 4500 garment factories.
The government also announced a public holiday on Tuesday for the country's three million garment workers.
Firefighters battled for several hours to contain the blaze, which broke out on the ground floor of the plant, 30 kilometres north of the capital Dhaka.
- AFP