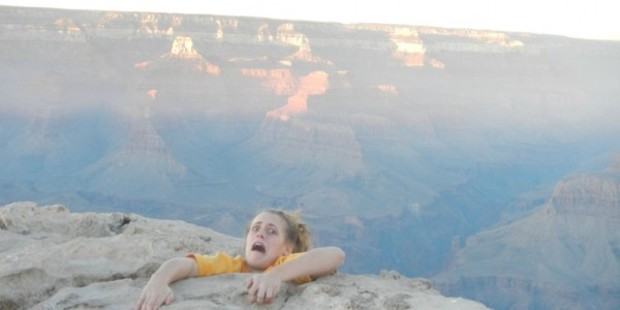 A posed photo of an American woman supposedly clinging for life at the Grand Canyon, which was used to prank her overprotective mother, has become the latest internet hit.

Samantha Busch from Illinois stood on a ledge out of shot and got her boyfriend to take the photo and then sent it to her mother, who "nearly had a heart attack" upon receiving it.

Busch posted it on Reddit last week with the caption, "Mom was worried about my trip to the Grand Canyon, I sent her this picture." It has since gone viral.

Busch, 22, told ABC News that she created the hoax photo because she wanted to give her overprotective mom a scare.

Her mother, Rebecca Busch, was using GPS locators to track her daughter's holiday and had repeatedly warned her daughter about falling off the edge of the Grand Canyon.

"For five days up to when we left, my mom had warned me about falling off the cliff or being blown off,"

To compliment the camera trickery, Samantha turned off her phone's GPS navigation and tracking applications.

"I work for her, so constantly every single day we communicate over work stuff. So for the whole week I decided not to let her know where I'm at. I had to give her some practice to not know where I am every day," Samantha told ABC News.
- nzherald.co.nz