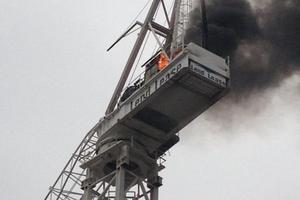 Firefighters are working to put out a fire on a crane in an inner Sydney construction site after its boom collapsed onto a building.
Around 100 workers from the building site at Ultimo and another 100 from surrounding buildings including the University of Technology Sydney (UTS) have been evacuated after the fire broke out on the crane today.
The fire has closed Broadway, causing major traffic delays on the key bus and commuter route.
A UTS staffer said she could see "flames bursting out of the platform" on the Lend Lease crane.
She told AAP she had seen smoke then noticed a "very nasty burning smell" before the alarms went off and people were evacuated.
A colleague had reported hearing a bang then seeing oil dripping from the crane, she said.
The crane operator had made it safely down from the crane and was being medically assessed, Fire and Rescue NSW acting superintendent Josh Turner told AAP.
He said there was some shaking of the crane tower when the boom collapsed, forcing emergency crews to withdraw to a safe distance.
The fire was contained within the cabin and fire crews were attempting to position ladder platforms nearby to better tackle the blaze, Supt Turner said.
"The priority is maintaining the stability of the crane," he said.
A Lend Lease spokesman said a team had been sent to assist emergency workers and try to determine how the fire started.
"It's unusual, very unusual," he told AAP.
- AAP