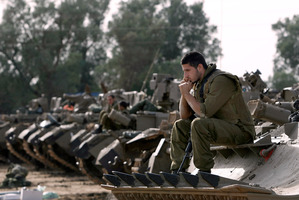 US President Barack Obama and Turkish Prime Minister Recep Tayyip Erdogan have expressed concern that renewed violence in Israel and the Gaza Strip would damage the Middle East peace process.
"The two leaders shared their concerns about the dangers to civilian populations on both sides and expressed their common desire to see an end to the violence," the White House said, after Obama called the Turkish leader.
The White House had previously made it clear that it blames the Islamist movement Hamas for the latest round of fighting, urging it to halt the firing of rockets from the Gaza Strip into Israeli territory.
Turkey has been critical of Israel, accusing Prime Minister Benjamin Netanyahu's government of stepping up the conflict in order to win domestic political advantage ahead of January's parliamentary elections.
But both leaders shared the concern that the conflict is worsening.
"The president and prime minister agreed that the continued spiral of violence jeopardizes prospects for a durable, lasting peace in the region," the White House statement said.
"The president underscored his commitment to advancing the goal of Middle East peace. The president's call to Prime Minister Erdogan follows his outreach to counterparts in Israel and Egypt on November 14."
Meanwhile, one Palestinian was killed and two wounded in an Israeli strike on a Gaza car on Friday (local time), shortly after a raid that killed four people, Hamas medical officials said.
"One citizen was martyred and two others seriously injured in an Israeli strike on a car in Deir al-Balah,'' in central Gaza, said Ashraf al-Qudra, spokesman for the Hamas health ministry.
The strike came shortly after a raid that killed four Palestinians in the central Maghazi district.
"Three citizens were martyred in a strike in Maghazi camp and their bodies were taken to Shuhada al-Aqsa Hospital,'' Qudra said, adding subsequently that a fourth man was killed in the same strike.
Security sources named one of the dead as Ahmed Abu Jalal, a field commander of Hamas's armed wing, the Ezzedine al-Qassam Brigades.
Qudra added that the strike, in the central Gaza Strip, targeted a home and that two of those killed were brothers.
The latest deaths raised the toll in violence that began Wednesday afternoon to 29, with more than 270 people wounded, Palestinian officials said.
They came as fresh air strikes rattled buildings across the enclave, with officials reporting strikes in Gaza City, central Khan Yunis and southern Rafah.
Earlier, Hamas health minister Mufid al-Mukhalalati warned in a press conference at Gaza City's Shifa hospital that "there is an acute shortage of medicine and medical supplies.''
He urged "Arab countries and all parties to support the health sector,'' thanking Egypt for the help it has already offered.
Since Israel's targeted killing of a top Hamas military chief on Wednesday afternoon, rockets fired from Gaza have killed three Israelis and injured 16, police and medics said.
- AFP