Anti-virus creator insists he had nothing to do with neighbour's killing.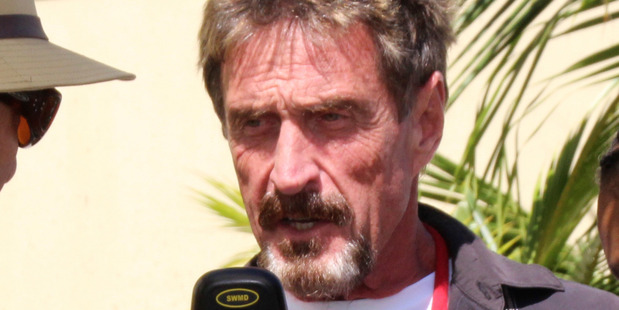 With his tinted hair and tribal tattoos, John McAfee has always stood out like a sore thumb among the yacht-owning multimillionaires who choose to live out their teatime years in the picturesque Caribbean tax haven of Belize.
The co-founder of the technology company McAfee, famous for its anti-virus software, moved to a beachfront mansion on the tourist island of Ambergis Caye in 2009, hoping to enjoy a long and happy retirement filled with sun, sea, sand, and yoga.
But the British-born entrepreneur yesterday found himself holed up in a jungle hideaway, trying to stay one step ahead of detectives seeking to question him about the gangland-style murder of his neighbour.
Police in the Central American nation say McAfee is a "person of interest" in the killing of Gregory Faull, a wealthy native of Florida found shot in the head facedown in a pool of blood this week.
McAfee insists he has been framed as part of a vendetta by local authorities.
Speaking by telephone to a reporter from Wired magazine, he said his own life would be in danger in the custody of Belize's police force.
"You can say that I'm paranoid about it, but they will kill me, there is no question," he said.
"They've been trying to get me for months. They want to silence me. I am not well liked by the Prime Minister."
McAfee claimed to have initially evaded arrest by burying himself in sand and placing a cardboard box over his head so he could breathe. Then he fled to into the jungle.
"I am adept at hiding. I will do whatever it takes to stay alive," he told Wired.
"The police have set up roadblocks across the country to catch me. I slept last night on a mattress infested with lice. It was extraordinarily uncomfortable [but] I will not turn myself in."
McAfee had been in dispute with several neighbours, including Faull, over the state of his beachside compound. The property is surrounded by high fences, has an untidy garden and has for months been patrolled by heavily armed guards. It also contains a pack of large guard dogs.
They had recently been the subject of several noise complaints, one of which came from Faull. Last week four of the dogs died, after having apparently been poisoned.
McAfee claims the poisoning occurred at the hands of authorities, as part of a plot to frame him for Faull's murder. The police, who have recovered several firearms from his home, say there is "absolutely no truth" to that allegation.
"This guy amazes me every day," said Marco Vidal, head of Belize's Gang Suppression Unit, who called him a "prime suspect" in the homicide investigation.
"We don't have anything personal against McAfee. There is no need for us to poison dogs."
The manhunt is just the latest twist in a life story which already stretches the bounds of credulity. Raised in Virginia, McAfee worked in Silicon Valley throughout the 1980s, and founded his firm in 1987.
It became hugely successful thanks to an explosion in the market for anti-virus software and a (then) unique business model which involved giving away the product online, but charging for tech support.
The firm went public in 1992, and McAfee sold his stake two years later, giving him a fortune of about US$100 million. He bought a string of luxury homes, in Hawaii, Arizona, New Mexico and Colorado, and decided to devote his time to a mixture of yoga and "aerotrekking" - flying unlicensed planes at low altitude.
But the good life ended in 2008 when the stockmarket crash wiped out many of his assets.
He liquidated his property portfolio and moved to Belize, which offered low taxes and robust protection from creditors.
In recent years, McAfee claimed to have founded an alternative medicine company using local plants to make a natural alternative to antibiotics, and a herbal version of Viagra for women.
But police appear to have decided the business was instead a front for a methamphetamine laboratory.
At dawn on April 30 they raided his home. They shot a guard dog before arresting five security guards and a 17-year-old local described as McAfee's girlfriend. A search uncovered 10 firearms, including seven pump-action shotguns and a pistol.
McAfee was thrown into prison for a few hours on suspicion of making P and illegal firearm possession. Reuters says charges are "pending".
McAfee says he's being persecuted for refusing to donate money to one of Belize's most influential politicians.
He says several attempts had been made on his life and insists he knows "nothing" about the murder. A jury may eventually have to decide whether he is telling the truth.

Hideaway a tax dodger's dream
A tiny nation on the Caribbean Sea, Belize was last year ranked 40th on the London-based Tax Justice Network's financial secrecy index.
The county, which earned a grand 90 points out of a potential 100 on the index's scale, doesn't put details of trusts on public record, nor does it maintain company ownership details in its official records, according to the network, which also said that it was lax in curtailing banking secrecy. Though vexing for fans of transparency, the regime means the country is often mentioned in the same breath as well-known offshore destinations such as the Cayman Islands.
A recent Tax Justice Network report reckoned the world's wealthy had secreted away at least US$21 trillion ($25.87 trillion) and possibly up to US$32 trillion in tax havens at the end of 2010.

- Independent