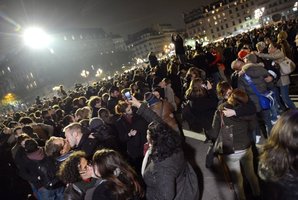 In the latest clash over France's plans to bring in same-sex marriage, the government on Thursday denounced comments from the French Union of Islamic Organisations (UOIF) that gay marriage may lead to bestiality.
"The UOIF's comments are... a terrible verbal attack on not only those directly affected, but our entire society," government spokeswoman Najat Vallaud-Belkacem said, asking "Muslims to respect the distinction between the religious and the civil."
The UOIF, an umbrella organisation for Muslim groups in France, posted a statement on their website that claimed gay marriage could open the door to bestiality and polygamy.
"If marriage between persons of the same sex becomes the norm, then all claims, even the most unseemly, might one day also become the norm," it wrote, listing bestiality and polygamy as two of the possibilities.
The issue has drawn strong reactions from religious and secular leaders, with industrialist and media magnate Serge Dassault claiming that the French will die out within 10 years if gays are allowed to marry.
The Socialist government last week adopted a draft law to authorise homosexual marriage and adoption, a cornerstone of the election manifesto that brought President Francois Hollande to power in May.
It now has to be voted through parliament before becoming law. Hollande has promised it will be on the statute books by mid-2013.
- AFP