Li a leader considered to be more in touch with the West but also known for keeping a lid on bad news.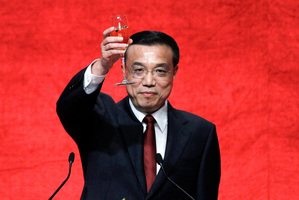 The man in line to oversee China's massive but rapidly slowing economy for the coming decade speaks English and comes from a generation of politicians schooled during a time of greater openness to liberal Western ideas than their predecessors.
But Li Keqiang has also been a cautious bureaucrat who rose through, and is bound by, a consensus-oriented Communist Party that has been slow to reform its massive state-owned enterprises while reflexively stifling dissent - and he has been an enforcer keeping a lid on bad news.
Li, to be promoted within the leadership's top council after a pivotal party congress closes tomorrow and expected to take the economy-focused post of Premier from outgoing Wen Jiabao next northern spring, was governor of the agricultural province of Henan in 1998 during an unusual explosion of Aids cases.
Tens of thousands of people had contracted HIV from illegal blood-buying rings that pooled plasma and reinjected it into donors after removing the blood products. But Beijing had not acknowledged the problem yet, and Li oversaw a campaign to squelch reporting about it, harass activists and isolate affected villages.
When the Government finally did go public four years later, Li showed canny political instincts with a rapid course reversal, channelling government assistance to victims and making public shows of compassion.
"He just tried to escape from this crisis" at first, said Wan Yanhai, a Chinese Aids activist who fled to the United States with his family in 2010 after increasing police harassment. "He's probably not a bad guy, but he's not shown himself to be very capable of managing crises in a strong and responsible way."
Li was introduced to politics during the chaotic 1966-76 Cultural Revolution, then entered Peking University to study law and economics.
After graduation, Li he worked at the Communist Youth League, a body that grooms university students for party roles, when it was headed by current President Hu Jintao.
After Beijing erupted in the 1989 pro-democracy protests centred on Tiananmen Square, Li tried to build bridges between the league and student activists. When martial law was declared, he quickly abandoned such efforts and within four years rose to head the league at a time when it was becoming irrelevant to young people amid increasing choices and a growing market economy.
Li had been seen as Hu's preferred successor, but the need to balance party factions prompted the leadership to choose a consensus candidate, Xi Jinping, who is expected to take over as party chief.
Li's relationship with Xi remains ambiguous, although the two are expected to follow the existing model under which Hu stayed somewhat aloof as head of state while Wen acted as the Administration's public face.
Both men are seen as part of ageneration of leaders more comfortable with the West than their predecessors, according to Ding Xueliang of Hong Kong Universityof Science and Technology.
After Henan, Li's next posting was in the northeastern province of Liaoning, where he oversaw a revival that drew foreign investment from BMW and Intel. One of the province's largest cities, the port of Dalian, even attracted the World Economic Forum, where global tycoons mixed with Chinese leaders and captains of industry.
In a US State Department cable released by the WikiLeaks organisation, Li is quoted telling diplomats Chinese economic growth statistics were "man-made", and saying he looked instead to electricity demand, rail cargo traffic and lending as more accurate indicators.
Li is married to an English literature professor and the family have largely steered clear of the webs of corruption surrounding other leading Chinese officials, although questions have been raised over whether his brother's powerful position at the government tobacco monopoly clashes with Li's role in making health policy.
Since his 2007 appointment to the Standing Committee, Li has maintained a steady, if low-key, schedule of meetings and speeches, with a visit last year to Hong Kong attracting the greatest attention when his unwillingness to meet with political critics seemed to cast him as a typical Chinese leader, tone deaf to public opinion in the former British colony.
In an April speech to the Boao Forum, a gathering of government officials and business leaders in southern China, Li made the case for structural reform of China's economy, citing the need for greater balance, co-ordination and stability. Yet questions remain about his willingness to take on vested interests, particularly in the state-owned enterprises, according to Patrick Chovanec, a business professor at Beijing's Tsinghua University.
"It remains to be seen whether Li will come out as a leader, or just follow a weak, watered-down consensus," Chavonec said.
That demand for consensus severely constrains the scope of any administrative reform, even though Li and the party say they are necessary, according to US Naval Academy China scholar Yu Maochun.
"You can't change the key parts of China's economic structure without fundamentally changing China's political structure, so I don't expect much" from Li, Yu said.
Li Keqiang
* Born in July 1955.
* Was sent as a youth to work in the countryside during Mao's Cultural Revolution.
* In 1998 became China's youngest governor when appointed Governor of Henan.
* Taken into the fold of China's all-powerful standing committee in 2007.
* Took over as Vice-Premier in March, 2008.
* Expected to take over from Wen Jiabao as China's Premier.
- AP