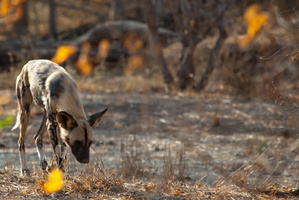 The African painted dogs that mauled and killed a toddler at the Pittsburgh Zoo are in quarantine, but they will not be euthanized, a zoo official said today.
"They will be kept in quarantine for 30 days" as officials pursue their investigation into Sunday's tragedy, spokeswoman Tracy Gray told AFP.
It was not yet clear what the dogs' fate would be after the quarantine period, but they will not be put down, she said.
The boy, identified as the son of a Pittsburgh area building designer, was standing on a railing when he lost his balance, fell and bounced off a mesh barrier into the dogs' compound.
"It was too dangerous" for nearby staff to enter before police and armed zoo keepers arrived at the scene, zoo president Barbara Baker told a press conference. One of the 11 dogs was shot and killed.
The zoo, which receives up to one million visitors a year, remained closed Monday, but it was due to reopen to the public on Tuesday.
The Wildlife Conservation Network says African painted dogs, about as big as a medium domestic dog, have dwindled in numbers due to human encroachment, with an estimated 3,000 remaining.
- AFP