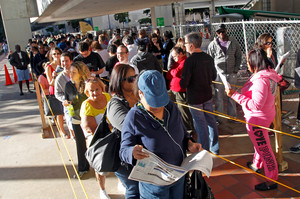 Florida, famous for the presidential election debacle 12 years ago which required the hand-counting of thousands of ballots, is facing new election-related problems ahead of tomorrow's White House vote.
The state's Democratic Party filed a federal lawsuit yesterday over long delays encountered by some voters who were unable to cast votes in southern Florida despite spending hours in line.
The controversy erupted over "in-person absentee ballots" that officials in Miami-Dade County said voters would be allowed to cast on Sunday local time from 1pm to 5pm.
The state's Republican Governor, Rick Scott, signed a law last year reducing the number of early voting days from 14 to eight and eliminating early voting on the Sunday before Election Day. Early voting officially ended in the state late on Saturday local time.
On Sunday, voters in southern Florida's Miami-Dade County received word that they would be allowed to cast absentee ballots in person.
But after being open for barely an hour, the Miami-Dade office closed its doors around 2pm, saying they were swamped by the unexpected high turnout.
The decision to cut short the vote led to an uproar outside the government office, where the Miami Herald reported nearly 200 people began shouting, "We want to vote!" and "Let us vote!"
"This is America, not a third-world country," Myrna Peralta told the daily.
Peralta said she had been waiting in line for nearly two hours before being turned away.
"They should have been prepared."
The lawsuit filed by Democrats asks a judge to compel three southern Florida counties to allow in-person absentee voting not only in Miami-Dade, but in two other counties, Palm Beach and Broward.
Florida is arguably the king of swing states, with some 29 electoral college votes up for grabs - more than any other of the closely-contested "battleground" states that vacillate between Republican and Democratic control and which ultimately will decide the election outcome.
Since last week, almost 4.5 million people have cast early ballots in Florida ahead of the official election day tomorrow, when the majority of voting Americans will formally vote for either the Democratic President, Barack Obama, or his Republican rival Mitt Romney.
Florida is especially critical to Romney's election prospects, and pundits say he must win the state if he is to defeat Obama.
Critics condemned the confusion as the latest in a so-called "voter suppression" campaign under way in several states aimed at discouraging Democrats from casting ballots.
In general, Democrats favour early voting, so limiting the number of people who vote ahead of the official November 6 election is seen as putting a thumb on the scale for Romney.
Voting problems in the 2000 presidential election were mainly related to antiquated paper punch ballots which in some cases left vote counters uncertain as to the voters' intentions, and required that thousands of ballots be manually examined.
-AFP