Tens of thousands left homeless by storm now face plummeting temperatures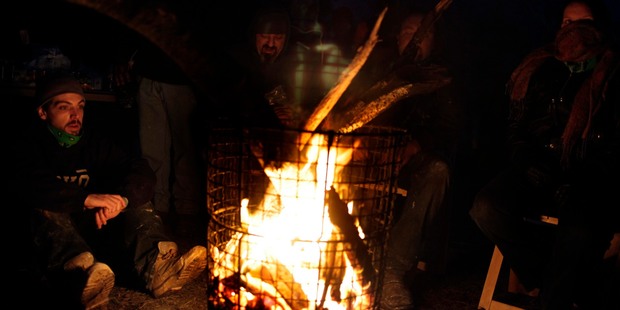 Tens of thousands of people whose homes were destroyed or damaged by Superstorm Sandy are facing a new crisis in New York as temperatures plunge, raising the spectre of people freezing to death.
New York City mayor Michael Bloomberg estimated that 30,000-40,000 homes in the city alone have been left unusable by the October 30 storm as the cold intensifies.
Sandy pummelled 15 states with fierce winds and a huge tidal surge that killed at least 109 people in the United States and Canada and a damage bill running to tens of billions of dollars.
Almost two million homes are still without power and a new storm predicted to hit on Thursday is bringing more heavy rain and winds.
"It is starting to get cold, people are in homes that are uninhabitable," New York state governor Andrew Cuomo said.
"We are going to have tens of thousands of people who need housing solutions right away. This is going to be a massive, massive housing problem."
Bloomberg compared the crisis to New Orleans after Hurricane Katrina hit in 2005. Tens of thousands fled New Orleans because of that storm. "In this case people are staying in New York City and it's a challenge for us," Bloomberg said.
More than 200,000 meals are already being handed out each day to the elderly and others in need in New York. The city is again laying on special buses and urging homeless people to go to emergency evacuation centres that remain open.
Poorer parts of the city, including the Rockaway and Staten Island districts were worst hit by the storm, and Bloomberg was the target of verbal abuse by inhabitants when he went there on Saturday.
Bloomberg called off the New York Marathon because of protests about the diversion of resources with so many people suffering. Many of the 47,000 contestants descended on Central Park yesterday to run part of the course while others handed out aid and money to storm victims.
The crisis remains acute in New Jersey, where at least one million people are still without electricity.
New Jersey governor Chris Christie, who introduced fuel rationing on Sunday, said that 280 police officers from other states would help with security.
Huge lines of cars and people on foot snaked back from petrol stations across the northern half of New Jersey. Drivers with license plates ending in an even number can only fill up on even-numbered dates, and vice versa.
About 730,000 people in New York state still do not have electricity, including 145,000 in New York City, and some may have to wait another two weeks to get power back, governor Cuomo said.
The US Energy Department says 2.5 million customers remain without power across seven states. Each "customer" however could be a home with several people living inside.
New York subways are getting back to normal and nearly all schools are set to re-open on Monday.
-AFP