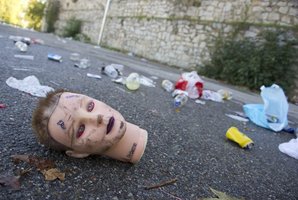 Partygoers stampeded at a huge Halloween event in Madrid before dawn today, creating a terrifying human crush that killed three young Spanish women and seriously hurt two others, Spanish authorities said.
Many young people were in tears as they battled against a human tide for the exit doors in a panic apparently sparked by people throwing a flare and firecrackers, according to police and witnesses.
Some of the doors to the Madrid Arena stadium, which has a capacity for up to 10,500 people, had been sealed, one witness at the "Thriller Music Park" party said.
The crush, apparently in a passageway in the stadium, killed three Spanish women aged between 18 and 20 and left another two women injured, police officials said.
A witness described chaos with people fighting for a single door, a waiter trying to resuscitate one of the victims on the bar, and security agents pulling at fleeing youngsters.
"It seems to have been provoked by a flare that someone threw into the stadium," a police spokewoman said.
"People threw firecrackers and at least one flare. The crowd thought it was gunfire and took fright," she said.
Police said they began fielding telephone calls before dawn about a crush at the party which had promised a "theatrical atmosphere", electronic music spun by "the world's best disc jockeys" and a costume contest based on Michael Jackson's "Thriller" video.
"There was a human blockage at the one exit they had because the others were closed so that no-one could go out that way," one of the youngsters at the party, Sandra, told Cadena Ser radio.
"There was only one door, there was a human blockage with a lot of security staff pulling people," she added.
"People were crying, crushed, and there was no-one to help that girl: the waiter got up on to the bar and tried to resuscitate her."
Another witness, 18-year-old Cristina Cardenas, said, "It was distressing. People vomited, fainted, it was real chaos".
"I found myself in a crush, it was inhuman, we couldn't move, there were people lying on the ground, we couldn't retreat because people were pushing," said another party-goer, Ernesto Moreno Hernandez, on Facebook.
"We stayed like that for around half an hour, until someone had the idea to open another door so people could leave."
Others who had been at the other end of the large stadium said on television that they hadn't seen anything, that the organisers had chosen to continue with the party as if nothing had happened to keep the panic from spreading.
Officers, who completed an evacuation of the stadium by 7:00 am, had already opened an investigation into whether the site had respected safety rules.
Fernando Prados, duty chief of Madrid emergency services, was on duty at the time of the disaster.
"We received a call at about 4:00 am saying that there were several unconscious girls and when we arrived there were five girls between 18 and 25 in respiratory arrest," Prados said.
"We performed resuscitation on them and we managed to get a pulse for three of them," he said. One of those women, however, died on the way to hospital, he told Cadena Ser.
The two others were in "very serious" condition, he added
"There were some stairs," another witness told public television. "There was an avalanche of people and people fell over each other and amassed there and there was a crush."
An employee from a nearby club said he believed there may have been too many people inside.
The municipal company that rented out the space denied that capacity had been exceeded, saying that only 9,650 tickets had been sold to the event. It also claimed there was no difficulty accessing exit doors.
A police van and several police cars were at the stadium Thursday, which was closed off as police inspected the site under the scrutiny of a crowd of photographers and television cameras.
The parking lot was scattered with beer cans, bottles and leftover costumes.
Spain's Roman Catholic leaders had in the past sounded an alarm over the growing popularity of Halloween in the country, calling it "pagan," "anti-Christian" and a celebration of death over life.
- AFP