Journal accuses Roche of reneging on promise to release the full trial data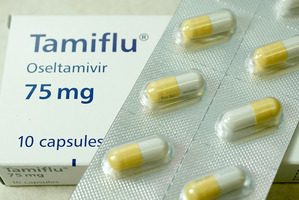 Pharmaceutical giant Roche is being accused of irresponsibly withholding key trial data about a vital flu drug on which governments around the world have spent billions of dollars.
The anti-flu drug Tamiflu has been stockpiled by countries against the outbreak of a flu pandemic since 2004. Yesterday, the British Medical Journal launched a campaign to persuade Roche to give doctors and patients the full data on Tamiflu, three years after doubts about its safety and efficacy emerged.
In 2009, researchers from the Cochrane Collaboration found that results of eight out of 10 key trials of Tamiflu were never fully published and concluded there was "insufficient data" to show it reduced complications - a vital factor in a pandemic which could save lives.
Roche promised to release the full data, but then reneged on its promise, according to the BMJ. Editor Fiona Godlee published an open letter to Sir John Bell, the Regius Professor of Medicine at Oxford University and a board member of Roche, in which she appeals to him to use his influence to persuade the company to release the data "for independent scrutiny".
The two trials that have been published, she says, "were funded by Roche and authored by Roche employees and Roche-paid external experts" and "could not be relied on".
There have now been 123 trials of Tamiflu but 60 per cent of the patient data "remains unpublished".
"In refusing to release these data of enormous public interest, you [the company's directors] put Roche outside the circle of responsible pharmaceutical companies. Billions of pounds of public money have been spent on [Tamiflu] and yet the evidence on its effectiveness and safety remains hidden from appropriate and necessary independent scrutiny."
The European Medicines Agency said last week it was investigating Roche's alleged failure to report side-effects of some of its drugs in as many as 80,000 patients, following a review by the UK Medicines and Health Products Regulatory Agency.
A Roche spokesman said: "Roche provided the Cochrane group with access to 3200 pages of very detailed information, enabling their questions to be answered. Roche stands behind the robustness and integrity of our data supporting the efficacy and safety of Tamiflu."
- Independent