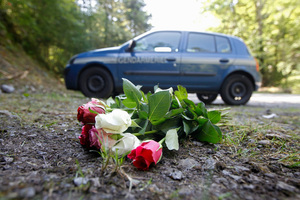 You will probably never have heard of Sylvain Mollier. Few people outside the small French village where he lived even know what he looks like. Until today, his picture had never appeared in a newspaper or on TV.
Cyclist Mr Mollier was originally written off as collateral damage in the Alpine massacre which claimed his life and the lives of three members of a British family, leaving two little girls orphaned.
But new evidence seems to point to him being the key to the mystery. As we shall see, it now seems clear that the 45-year-old father-of-three was the first to be gunned down. It has also emerged that he was shot seven times, more than any of the other victims, who were each shot twice.
Mr Mollier was found next to a UK-registered BMW estate car in a remote lay-by high above Lake Annecy, in the French Alps, on the afternoon of September 5. Inside the BMW were the bodies of engineer Saad Al-Hilli, 50, and his wife Ikbal, 47, from Claygate, Surrey, and Mrs Al-Hillis mother Suhalia, 74.
Zeena Al-Hilli, four, escaped unhurt by hiding under her mother's skirt. The only witness was her seven-year-old sister, Zainab, who survived against all the odds despite being pistol-whipped and shot in the shoulder.
The murders - one of the most shocking unsolved cases of recent times - have resulted in an almost endless list of conspiracy theories and possible motives. Over the past few days there have been yet more claims and revelations.
- Daily Mail