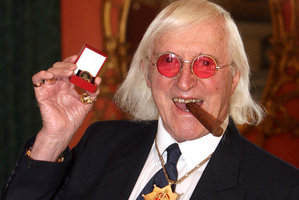 Police investigating alleged child sex abuse by the late BBC star Jimmy Savile have identified around 300 possible victims, making him one of the worst offenders in British history, a senior officer said overnight.
Scotland Yard is preparing to arrest other suspects over allegations they acted alongside the veteran television presenter, who died last year aged 84, Commander Peter Spindler said.
The claims against Savile have plunged the BBC into crisis and destroyed the reputation of the man who, with his garish tracksuits and ever present cigar, was one of the most famous faces on British TV for decades.
The inquiry was a "watershed'' moment in the investigation of child abuse in Britain, Spindler said.
The platinum-haired Savile was "undoubtedly'' one of the most prolific sex offenders in recent British history and the weight of evidence from the victims against him was overwhelming, Spindler said.
"We have to believe what they are saying because they are all saying the same thing independently,'' he said.
All but two of the alleged victims were female, he said.
Officers had spoken to 130 of the 300 victims who had come forward and formally recorded 114 crimes.
Scotland Yard is believed to have investigated an allegation of assault on BBC premises in the 1980s but officers have not found the original file, he added.
He said police had not yet arrested or interviewed any suspects but Scotland Yard was "preparing an arrest strategy''.
"There's Savile on his own, and that's the vast majority of what we're being told about, (then) there's Savile and others. And it's the others, if they're living, we can look at them.''
There was a third category of abuse that police were looking at which involved people other than Savile committing abuse, he said.
Savile was one of Britain's top broadcasters and presented a string of programmes that brought him into contact with children _ most notably Jim'll Fix It, in which he made the wishes of youngsters come true.
His work for various charities brought in millions of pounds and earned him knighthoods from Britain's Queen Elizabeth II and the Vatican.
But the abuse allegations that emerged since his death in October 2011 have destroyed his reputation.
The state-funded BBC has launched two inquiries into the scandal.
One is into how he was able to get away with the abuse, and the other is into why a programme investigating his activities was dropped.
Chris Patten, chairman of the BBC Trust which oversees the BBC's work, said overnight that the broadcaster had been engulfed by a "tsunami of filth'' because of the Savile claims.
It took a rival channel, commercial broadcaster ITV, to go public earlier this month with claims from several women that they were abused by Savile when they were young.
Rumours about him had been circulating for years.
Britain's director of public prosecutions announced on Wednesday that he had ordered a review into a 2009 decision not to file charges against Savile after pupils at a school for disturbed children alleged he abused them.
Earlier Thursday British newspapers reported that police investigating the Savile case had been passed the names of three doctors accused of sexually abusing children.
The doctors worked at hospitals where Savile is also alleged to have molested young and vulnerable patients while carrying out charity work, the Guardian and the Daily Mail newspapers reported.
But Spindler said they had not yet received those allegations.
- AFP