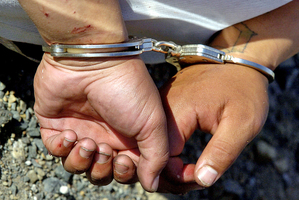 A US man gnawed at his own wrist in a failed attempt to escape his handcuffs. File photo / NZ Herald
A would-be American carjacker attempted to chew off own his hand and finger before defecating in a police car in New Jersey on Monday.
The Jersey Journal reported that Jargget Washington,29, was believed to be high on phencyclidine, or PCP, when he was found naked and incoherent after jumping on the roof and hood of a commuting car in Jersey City.
After police restrained him, he was taken to Jersey City Medical Centre to be medically and psychologically cleared.
Once in a police holding cell, Washington apparently became hostile and ate his medical bracelet before gnawing at his own wrist, in a failed attempt to escape his handcuffs.
Between the holding cell and the county jail, Washington, still in his hospital garb, defecated in the back of the police cruiser, police said.
While at the jail, Washington gnawed one of his fingers, a spokesman for the county confirmed.
Washington is charged with carjacking, throwing bodily fluids at law enforcement officers and being under the influence of a controlled dangerous substance and is now back at the Jersey City Medical Centre being treated.
PCP can cause hallucinations and make users extremely violent.
- nzherald.co.nz