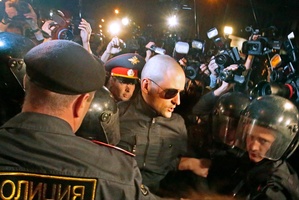 The Russian opposition after an online vote unveiled its new leaders Monday who will spearhead a drive to regain momentum against President Vladimir Putin after his crushing victory in May elections.
A total of 81,801 voters took part in the poll on the internet, which had been extended to Monday after the site was hacked on Saturday for over eight hours, electoral committee head Leonid Volkov said on the opposition-friendly Dojd television channel.
More than 200 candidates competed for 45 seats on a so-called Coordinating Committee for the anti-Putin foes.
Some of the winners were high-profile opponents, including former chess champion Gary Kasparov.
The biggest vote-getter was liberal and national leader Alexei Navalny, known for his fight against corruption.
The head of the Left Front movement Sergei Udaltsov, who has been the target of an investigation into plotting mass riots, and Boris Nemstov, ex-vice premier under Boris Yeltsin, were also selected for the committee.
The highly symbolic poll's sole purpose is to inject new energy into a protest movement that has lost steam since last winter when it appeared to pose the first serious challenge to Putin's 13-year rule.
The very fact of the election returned many of the protest leaders to Russia's news pages and led to heated debates among the social network-savvy hipsters who form the opposition's largest constituency.
The young crowd's spirits have been flagging because the rallies since Putin's return to the Kremlin for a third unprecedented term have dwindled in attendance - raising fears the movement was quickly becoming a spent force.
Protest organisers conceded they needed new leaders more closely connected with the opposition rank-and-file.
But the internet-only voting generated almost no interest in the provinces and few Russians nationally seemed to be aware of it as the state media continue to devote their attention to Putin and his daily affairs.
- AFP