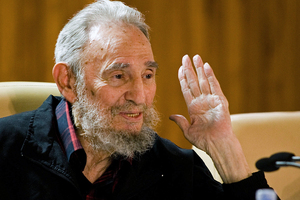 Fidel Castro "is very well," Venezuela's former vice president Elias Jaua said after meeting the Cuban revolutionary icon, amid a swirl of rumours that the former leader was on his death bed.
The 86 year-old Castro "is very well, very lucid," Jaua, a loyal supporter of leftist Venezuelan President Hugo Chavez, told reporters.
After the five-hour meeting on Saturday, Castro accompanied Jaua back to the Hotel Nacional, where the visitor was staying, and then posed wearing a peasant hat for pictures with hotel staff.
"We'll have Fidel for a long time," said hotel manager Antonio Martinez, who posed with Castro for a picture.
Martinez said he welcomed the former Cuban president was accompanied by his wife Dalia Soto del Valle, during the visit to the hotel.
Castro had not been seen in public since March 28, when Pope Benedict XVI paid a landmark visit to Cuba, and again briefly the following week on April 5 with Chilean student leader Camila Vallejo.
Castro, who rose to power after the 1959 revolution, ceded the presidency to his younger brother Raul, 81, in July 2006 for health reasons.
Jaua, who is currently a candidate for Miranda state governor for Venezuela's ruling party, said he spoke with Castro about agriculture and other topical issues.
The Chavez administration in Venezuela is a major supporter of the Cuban regime.
- AFP