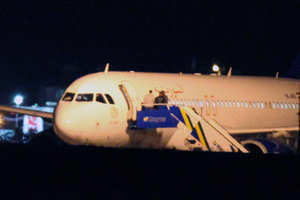 Turkey seized "objectionable cargo'' aboard a Syrian passenger plane which it intercepted en route from Moscow to Damascus, Turkish Foreign Minister Ahmet Davutoglu said.
"There is illegal cargo on the plane that should have been reported'' in line with civil aviation regulations, Davutoglu was quoted as saying by Anatolia news agency.
"There are elements on board that can be considered objectionable,'' he added, without elaborating.
The confiscated cargo might be missile parts, NTV news channel reported.
But the plane carrying 35 passengers on board would be allowed to leave soon, Davutoglu said.
The A-320 plane was escorted overnight NZ time by two Turkish jets to Ankara's Esenboga Airport for security checks on its cargo by Turkish special operation units.

After that warning, that a Turkish Airlines plane carrying Turkish pilgrims from the northwestern city of Bursa landed urgently in Adana city in the south, according to NTV.
Tensions between Turkey and Syria have been running high, with sporadic fire exchanges at the border since last Wednesday.
Last week, a Syrian shell hit a Turkish border town, killing five civilians - two women and three children.
The deadly incident triggered retaliation fire from Turkish artillery units at the border, which has been increasingly fortified by scores of anti-aircraft batteries and Howitzers since the shelling.
It also brought on a parliamentary mandate which is valid for one year and which allows the government to authorise cross-border operations in Syria, and to be used "if needed''.
The Turkish army also warned earlier Wednesday of a stronger response if Syrian shells continued to land on Turkish soil.
Ties between Ankara and Damascus have been dramatically strained since June, when a Turkish jet was brought down by Syrian fire, killing its two pilots onboard.
- AFP