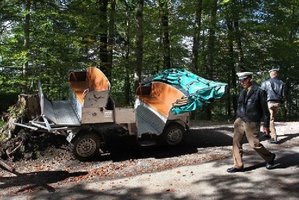 Eight people, including four Japanese tourists and two children, were hurt in a freak horse-and-carriage accident at the world-famous Neuschwanstein Castle in Germany.
The two Japanese men and two women were preparing for a trip around the castle, a major tourist attraction, along with a 40-year-old German mother and her two daughters, nine and 11, when the horses suddenly broke free from the driver, who was holding them.
The animals sprinted downhill, local police said, and the carriage slammed against a wall, catapulting the three German tourists out of the vehicle.
The mother suffered serious head injuries and the two children were also seriously hurt with leg fractures, authorities said.
The horses then collided with an oncoming carriage and the Japanese party was ejected from the cart, suffering lighter injuries.
The animals pulling the oncoming carriage also bolted and the driver was injured when he was thrown.
The injured were rushed to hospital by police helicopter.
Two of the horses involved in the accident were so badly injured that vets put them down, authorities said.
The fantastical Neuschwanstein in the southern state of Bavaria, designed by the eccentric King Ludwig II and completed in 1880, is one of the most popular castles in Europe and attracts around 1.3 million vistors annually.
It also served as the model for the Sleeping Beauty Castle at Disneyland in southern California.
- AFP