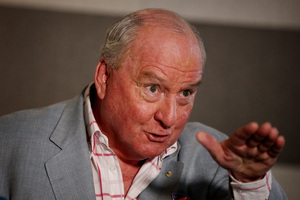 Controversial radio broadcaster Alan Jones has branded a senior Mercedes-Benz manager a "gutless wonder" after the German car giant repossessed his luxury sedan.
Mercedes-Benz pulled its ads from Sydney radio station 2GB and took Jones' A$250,000 ($311,048) sponsored car after he suggested Prime Minister Julia Gillard's father had "died of shame" over her "lies".
Jones lashed out at the decision, singling out Mercedes-Benz corporate communications manager David McCarthy for particular criticism.
"This bloke McCarthy has big noted himself on behalf of Mercedes-Benz and said: 'Well you know I want the car back straight away and if we don't, we'll get over there and repossess it'," Jones told his listeners.
"You big hero Mr McCarthy, how many phone calls did you make to me? You absolutely gutless wonder - none, none - easy to shoot your mouth off and present an image which is completely untrue."
Macquarie Radio Network suspended all advertisements on 2GB, in response to what Jones described as the "cyber bullies" who have been threatening companies associated with his show.
- AAP