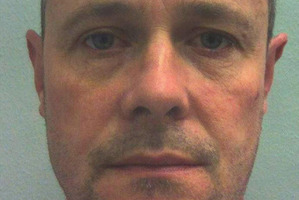 The complex private life of the British man arrested on suspicion of kidnapping five-year-old April Jones has begun to emerge.
Unemployed Mark Bridger has a colourful love life and long line of failed careers.
Born in Sutton, Surrey, the 46-year-old was known to April's parents Coral, 40, and Paul, 43, after his move to Wales in the 1980s.
The divorcee has had a string of relationships in the town of Machynlleth, and he has fathered at least three children with two women on the Bryn-y-Gog estate where April lives.
Yesterday police took the unusual step of issuing a photograph of Bridger and of his Land Rover - although officers stressed that he is only one of several lines of inquiry.
Bridger was picked up by police on Tuesday afternoon as he walked alone on a road towards Machynlleth, wearing a camouflage jacket and trousers.
Friends described the former abattoir worker as being a regular visitor on the estate.
It has been previously suggested that he is a former soldier but there is no record of him ever having been employed by the Ministry of Defence.
Bridger is still on good terms with Elaine Dafydd, the mother to two of his children, Sophie, nine, and Connor, 13. Mrs Dafydd is now married to a new partner and has a four-year-old girl.
Since moving to Wales, Bridger has struggled to hold down a steady job and has been unemployed for long periods of time.
At other times, he has worked as a welder and as a lifeguard at the same leisure centre now being used to co-ordinate the search for April.
The middle child of Pamela and Graham Bridger, who now live on the Sussex coast, he has an older sister and younger brother who still live in Surrey.
After moving to Powys, he met local woman Julie Williams, who he married in June 1990 in Machynlleth, but the couple have not spoken for years.
Yesterday, their son Scott, 19, revealed the relationship between his parents was so strained that he had only recently met his father.
He said: "He's never really been in my life. I only met him really properly a couple of months ago.
"I have only met him on a couple of occasions like down the local pub - he's been there a couple of times that I've been there."

Mr Williams said he had been out helping with the search. He said he was "shocked" to learn that his father had been arrested, adding: "I only heard about it when they
announced it on the news. It was a shock when his name was announced on the telly."

Up until two years ago, Bridger was living with a local woman named Corinna Robinson, but they have since split up.
Neighbours said he had been living with another woman on the estate, Vicky Fenner, but she ended the relationship last month.
One former neighbour said: "He has had a lot of women and goes from one to another.
"Looking back now, it seems like a lot of relationships but these things can happen in life. He's never been single for long and has always got on with people even though this a very small community - everyone knows everyone else's business here."
Locals described Bridger as quiet but friendly, and revealed that he was a member of the local pub darts and cricket teams.
One said: "Mark had always been very friendly and trying to fit in since he moved here 20-odd years ago.
"April and Mark's kids were all friends in one big group, so April would have known who Mark was."
Bridger had been staying in a small whitewashed farmhouse in Ceinws, five miles north of Machynlleth.
The road to the town was blocked off yesterday and police were searching rivers and a quarry in the area.
There was also a police presence at the farmhouse, where the suspect had been living for just two weeks. Neighbours told how police had been systemically searching the property along with nearby factory units and farm buildings.
Superintendent Ian John said the results of the forensic examination of Bridger's vehicle had been "fast-tracked".
Grandparents: 'We just don't know what to do'
Meanwhile, it has also been revealed that the missing schoolgirl suffers from a disability which may require regular medication.
Her grandfather Richard Moon, 69, and step-grandmother Jean Moon, 59, described how the five-year-old has mild cerebral palsy.
The brain condition can hinder development and affect posture, balance and movement, but other than experiencing slight problems with her hands, April tries to live a normal life.
Yesterday's emotional televised appeal from mother Coral Jones did not provide an immediate 'golden nugget' of information about April's whereabouts.
With dozens more police due to join the search, senior officers said they are "in no way scaling back their operation".
It emerged detectives have not ruled out the possibility that more than one person was involved in April's abduction.
April's grandfather, Mr Moon, a former RAF statistician, told the Mail: "It's the waiting, it's killing us.
"We just don't know what to do. I've spoken to Coral and she is in bits, she could hardly talk, it's just terrible.
"We're just praying that she will come home safe, but as the hours go by - it's just too terrible to contemplate."
Mr Moon said that April had been diagnosed with cerebral palsy, but added: "She's been coping fine with it, she has a few problems, you can see from the pictures she has a few problems with her hands, but she is like a normal five-year-old.
"She loves riding her bike, being out with her friends, she's a beautiful little girl."
Mrs Moon, who works with disabled youngsters, added: "April's a loving little girl, very bouncy, she's Coral's youngest and most vulnerable, so it's just terrible.
"It's like somebody has dropped a bomb, I can't imagine what Coral and [her husband] Paul are going through. When anything goes wrong with your kids part of you dies, part of you is missing."
Mrs Moon said they were in regular contact with Mrs Jones, but added: "We've been speaking to the family to find out what's going on. We don't really want to watch it on television, it's such a heartache and every time there is a piece of news we are scared of the consequences."
- DAILY MAIL