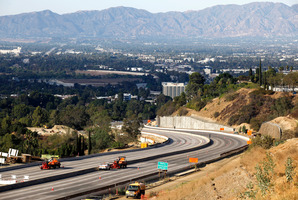 A closed stretch of the 405 freeway extends into the San Franando Valley section of Los Angeles. Photo / AP
Los Angeles breathed a sigh of relief Sunday as the weekend closure of a key stretch of freeway, dubbed a feared "Carmageddon II," went off with barely a hitch and no mass gridlock.
A 10-mile (16-kilometer) stretch of the San Diego, or 405 Freeway was closed from Friday evening until Monday morning to complete work on a bridge started during the first closure in July 2011.
By Sunday afternoon, few problems were reported, and authorities were even hinting that the road could be reopened ahead of the scheduled 5:00 am (1200 GMT) end of roadworks.
Apocalyptic warnings were issued before last year's "Carmageddon" shutdown on the 405, one of America's busiest freeways and an LA commuter hellhole, made famous when disgraced football star and actor O.J. Simpson was followed live along it in a 1994 car chase.
Some predicted the kind of traffic chaos brought by the 1984 Los Angeles Summer Olympics.
But faced with those dire warnings, famously car-obsessed Angelenos steered clear of the problem, or even - shock, horror - left their vehicles at home, producing a surprisingly traffic-free weekend.
This time, officials again issued extensive warnings, but the success of the first operation even led some to suggest it could produce a "Carmaheaven" car-free weekend.
Signs to avoid the Sepulveda Pass - a key route between the sprawling LA basin and the San Fernando Valley to the north - have been posted for weeks on routes around the area.
The biggest LA weekend traffic problem reported was in fact due to a triathlon, which closed all north-south routes between Venice Beach on the coast and downtown LA for at least four hours early Sunday.
"My tip line is burning up with people who say they can't go north to south," said KNX traffic reporter Tommy Jaxson, adding that hundreds of motorists were stuck en route to church or Sunday breakfast.
- AFP