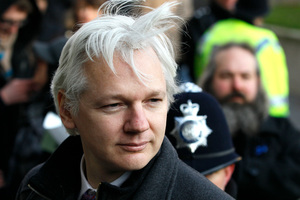 British rights group Amnesty International has urged Sweden to give WikiLeaks founder Julian Assange assurances that it will not extradite him to the US if he goes to Stockholm for questioning.
Australian activist Assange, 41, has been holed up in Ecuador's London embassy since June 19, when he claimed asylum in a bid to avoid extradition to Sweden for questioning over allegations of rape and sexual assault.
Ecuador granted him asylum on August 16 but Britain has refused him safe passage out of the country - leaving Assange stuck inside the embassy as the diplomatic deadlock continues.
Assange denies sexually assaulting two Swedish women and claims the allegations are a politically motivated attempt to secure his eventual extradition to the US.
The WikiLeaks website deeply embarrassed the US government by publishing huge caches of confidential documents on the wars in Iraq and Afghanistan and more than 250,000 diplomatic cables from US embassies around the world.
Assange supporters claim he could receive harsh treatment if sent to the United States and possibly even face the death penalty.
On Thursday - Assange's 100th day inside the embassy - Amnesty said it was "time to break the impasse".
"If the Swedish authorities are able to confirm publicly that Assange will not eventually find himself on a plane to the USA if he submits himself to the authority of the Swedish courts then this will hopefully achieve two things," said Nicola Duckworth, Senior Director for Research at Amnesty.
"First, it will break the current impasse and second it will mean the women who have levelled accusations of sexual assault are not denied justice."
She added: "While Amnesty International has no evidence that Sweden plans to extradite Assange to the USA it seems evident that fears about such an outcome have played no small part in the current stand-off.
"Amnesty International believes that the forced transfer of Julian Assange to the USA in the present circumstances would expose him to a real risk of serious human rights violations."
Sweden said last month that it was up to the US to give Assange the guarantees he has sought from Stockholm.
British Foreign Secretary William Hague and his Ecuadoran counterpart Ricardo Patino discussed Assange's case in New York on Thursday, but failed to come to any agreement.
Ecuador said on Wednesday that it is prepared to shelter Assange in the embassy for years if necessary.
Assange himself, meanwhile, called on the United States to halt its "persecution" of WikiLeaks, in a video message from the embassy to the UN headquarters in New York.
- AFP